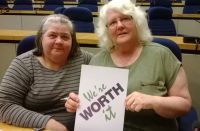 Council workers up and down the country will be taking part in activities on Tuesday 4 February to highlight the continuing scandal of low pay and paltry pay rises. We deserve a pay rise because we deliver essential services and we are WORTH IT! Members in South Lanarkshire Branch are pictured supporting the campaign. They are WORTH IT!
Fair Pay for Local Government Workers
Edinburgh UNISON members at the City Chambers today
The pay of home carers, roadworkers, cleansing staff, social workers, public health workers, education staff and all the other workers who deliver
Scotland's essential services is worth far less now than it was in 2010 yet they keep services going against the odds.
Councils have imposed a 1% rise for 2014, meaning these workers will be 16% worse off since 2010 while the top 1,000 people will be an amazing £190 billion richer.
UNISON says Scotland's local government workers deserve better and we are launching a new claim for 2014 -
because they're worth it!